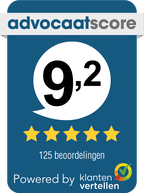 Advocaatscore is the review tool within the attorney profession. As a law firm, it allows you to collect and manage your own reviews. Just like when buying a new television or booking a hotel, a potential client likes to read previous experiences with the lawyer prior to an actual request. 
By collecting reviews, this transparency is offered to the potential client. The actual satisfaction of clients is thus revealed. Last week the annual awards were handed out to the law firms with the highest client satisfaction. This satisfaction is measured by means of reviews, which are collected via Klantenvertellen. 
Almost 2,000 lawyers have actively collected and shared reviews from their clients. Both large and small offices, corporate and private and both public and anonymous. Each lawyer has the opportunity to win an award! From these participants a TOP 100 has been set up. Curious as to who is among them all? Take a look at the list here.
The following firms made the top 3:
🥇 Kroes attorneys
Kroes attorneys earned a whopping 9.8 as a rating and pulled in 105 reviews.
🥈 Everaert attorneys
Everaert attorneys has also achieved a wonderful 9.8 as a final mark and 105 reviews.
🥉 Ace personal injury attorneys
Ace personal injury attorneys has achieved a nice 9.3 through 89 reviews.
We would like to take this opportunity to congratulate the above winners and every lawyer in the TOP 100 for their great achievements! Efforts bring great appreciation, as it turns out.
Do you have a law firm and would also like to participate in the Review Awards in 2021?